About us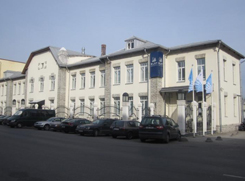 ADD Grupp OÜ - is a steel construction manufacturing company with long-term experiences. We produce and install steel constructions for construction companies and also private clients. Works are produced according to the client's designs and sketches, but we also offer design service. We have the experience to use carbon and stainless steel in our production. We use different coating solutions for our products, depending on the client's wishes and including such solutions as paints, powder paints and hot-dip galvanizing.
Facts
ADD Grupp OÜ was founded in 2001. Company is able to produce 100 t steel constructions in month.
ADD Grupp OÜ is responsible for quality of product and gives depend on construction until 5 years guarantee.
ADD Grupp OÜ gives competitive price on manufacturing and installation of steel constructions which is based on professional management and personnel with good skills.

Main activities
Manufacturing and installation of tanks for liquids.
Manufacturing and installation of steel structures for industrial use.
Manufacturing and installation of technological pipelines (Fe, AISI).
Manufacturing of Conveyers (belt, chain and roll).
Ship repairing works.
Manufacturing of stairs and handrails (interior and exterior metal stairs, stair ladders, stair platforms, spiral staircases, stair design).
Installation of in various roof and wall panels.